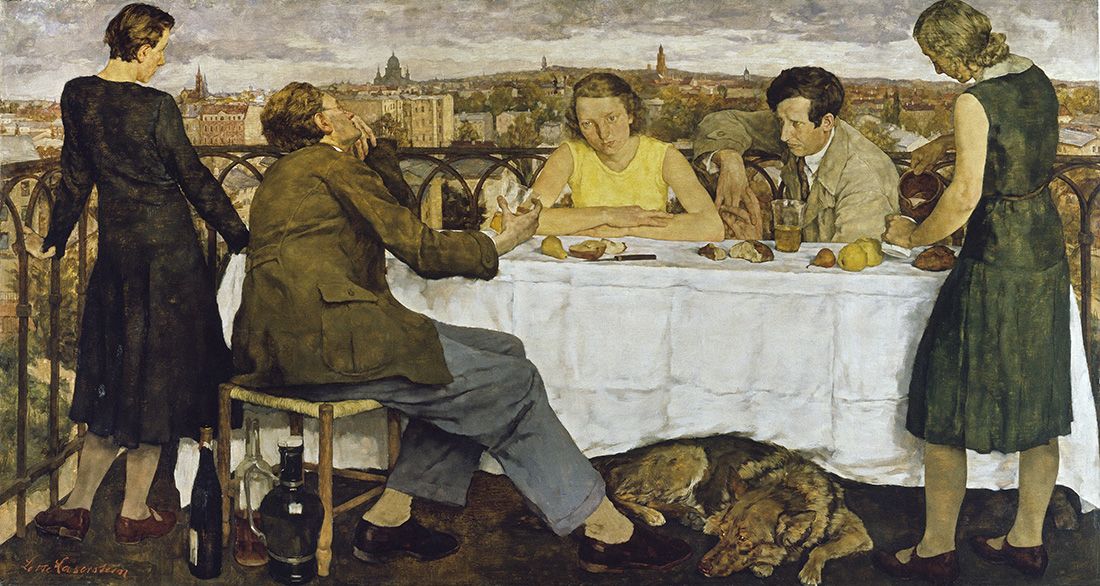 Evening over Potsdam, 1930
Lotte Laserstein
Narrator: In a state of elegiac preoccupation, this group of friends gathered at dusk on a roof garden initially suggests an affinity with those companionable tableaux painted by the Romantics or around the turn of the century. But the tranquility is deceptive. When Laserstein painted Evening over Potsdam, the Great Depression had put an end to the "Roaring Twenties"; disillusionment and aimlessness spread, reactionary forces were on the rise.

The woman at the far left in the painting is Lotte Laserstein's model and friend Traute Rose. She wrote down her memories of meetings with Lotte Laserstein in 1987. She described the complicated genesis of this painting, which bears some affinity with Christian depictions of the Last Supper. Traute Rose writes:
 
"The very long wooden board had first to be transported with Berlin's suburban rail service to Potsdam, and from there by horse and cart to its actual destination, to acquaintances who had a large roof terrace with a view across Potsdam. The friends got together for the first sketches. They took their places, and it was decided where they should stand and how. The figures were only sketched because the background had to be painted first. Once that had been done, the artist transported the wooden panel back to her new studio with its tall studio window, where she had the same lighting conditions as on the roof terrace. Then the protracted labour began with the various models. My position had been defined on the far left by the balus­trade, and so had my husband's [the second figure from the left], who had our dog at his feet. The central figure was initially a girl in a red jumper, but she couldn't keep it up for long and was replaced by the girl in the yellow shirt. The romantic man sitting next to her also had a predecessor. He was wiped away to his deep regret. The girl in green standing in the foreground was suitable, but she couldn't stay on her feet for so long. So I posed as the model for her legs. My husband, Ernst, whose head is tilted back and resting on his hand, had the hardest time maintaining his pose. After a while the dog was replaced by an old fur because he obviously didn't like Ernst's feet."
 
In Sweden Laserstein retitled the painting Mina Vänner (My Friends), as if in homage to what she had left behind. She showed the painting under this title at several exhibitions. It hung in her home until shortly before her death.