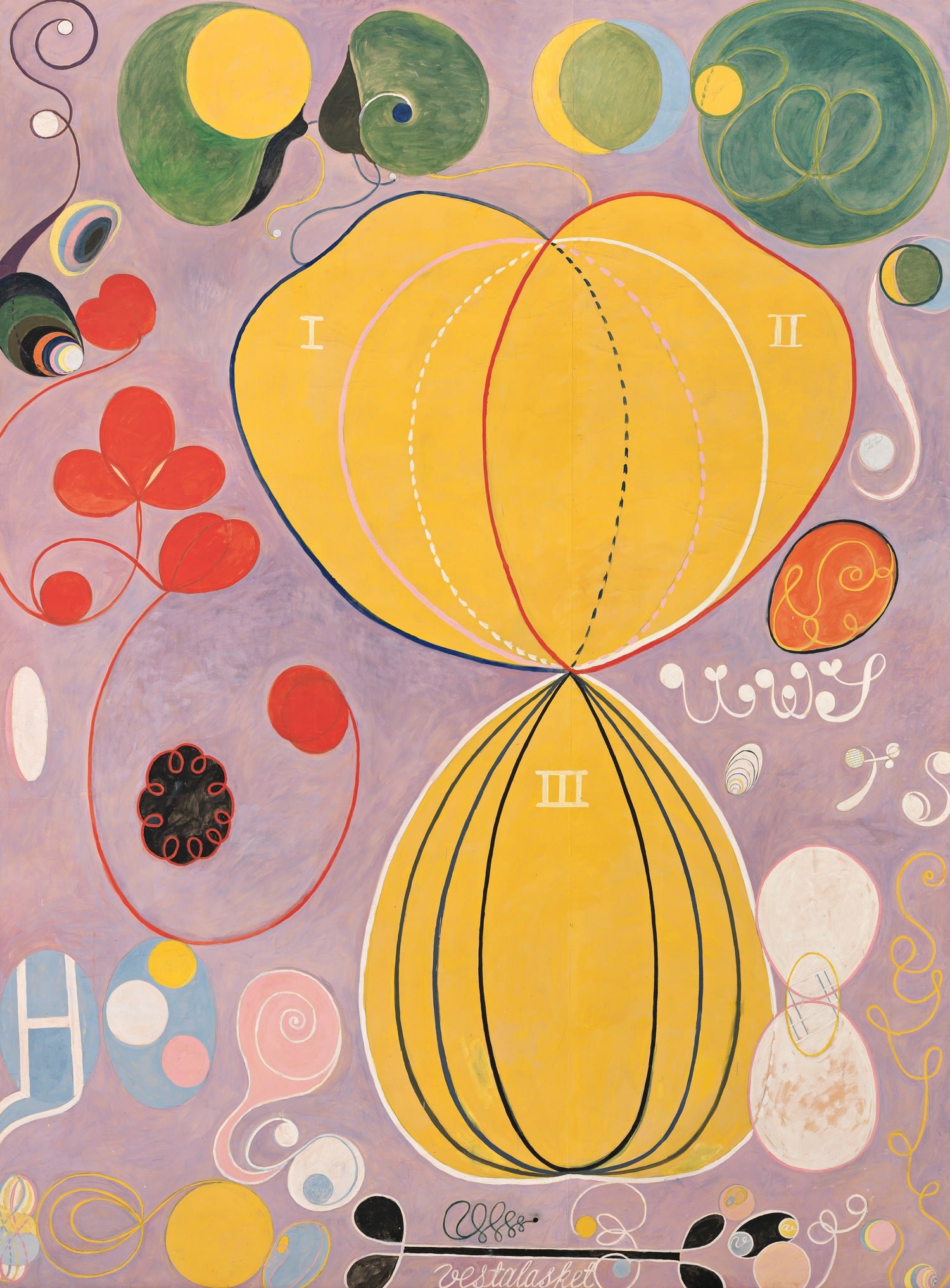 The Swedish artist Hilma af Klint (1862–1944) is today seen as a pioneer of abstract art. After studying at the Royal Swedish Academy of Fine Arts in the 1880s, Hilma af Klint established herself as a landscape and portrait painter in Stockholm. In the autumn of 1907, she began the first painting in the series The Ten Largest.
Hilma af Klint worked on these ten paintings for forty days, producing the most monumental paintings of her entire career. The works are part of the series Paintings for the Temple, an extensive project that she had been instructed to complete by spirits two years before. These spirits told her that she would be instrumental in "communicating images to humanity of the life that exists beyond everything".
At the time theosophical and anthroposophical currents were expanding, and like many artists around Europe, Hilma af Klint shared a great interest in spiritualism and spirituality. She would come to spend the rest of her life trying to understand and give form to this invisible reality. Her images work both within and beyond language. Organic shapes meet abstraction and symbols. The tension between the dualities and their endeavour to achieve wholeness and harmony with one another is a recurring theme. The power of growth is a constant presence. The Ten Largest depicts four phases in a human life: childhood, youth, adulthood and old age. Hilma af Klint is, however, rather more interested in the spiritual and mental development than the physical development.
Throughout her life, Hilma af Klint sought the right con¬text for her paintings and only showed them to a limited number of people while waiting for the world to become ready to receive their message. Today, more than a hun¬dred years later, her work is acclaimed all over the world. Through Moderna Museet's close collaboration with the Hilma af Klint Foundation, the series The Ten Largest can now, once again, be experienced at the museum.
Matilda Olof-Ors
Curator