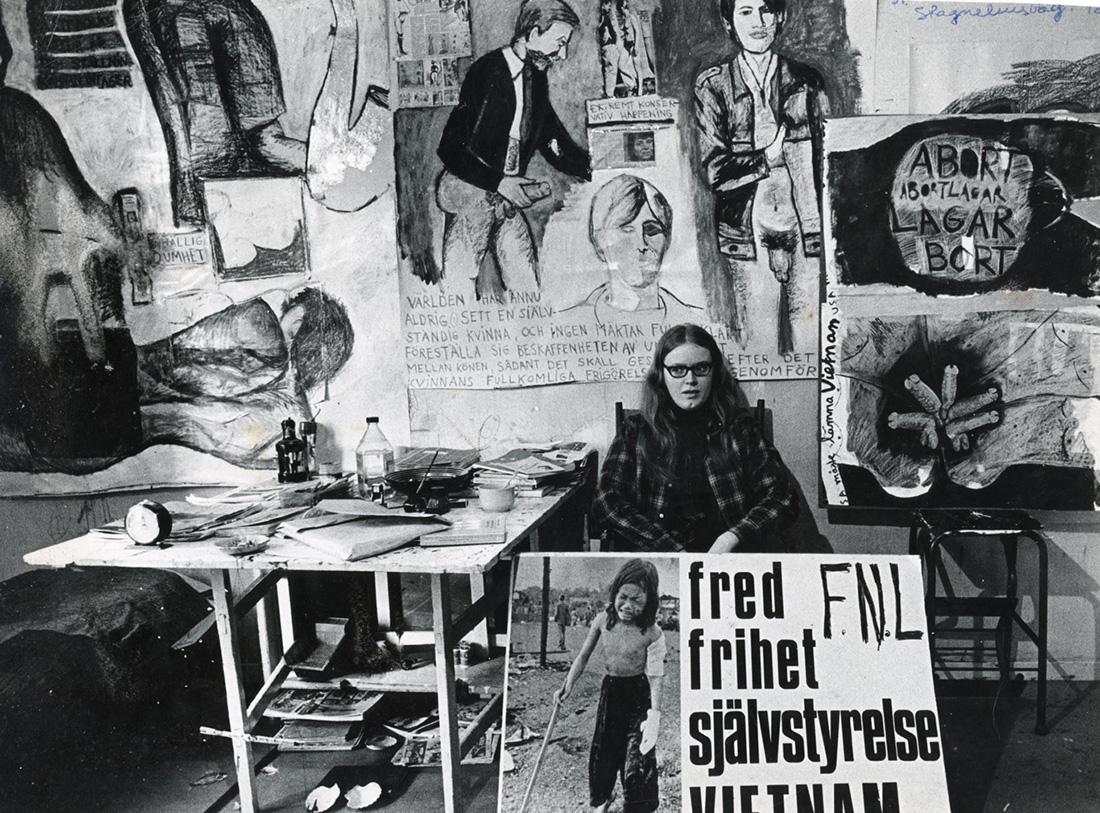 "Autobiographical Note" was first published as part of the preface to the posthumously published book Spiral Journey in 2018.
Autobiographical Note
Monica Sjöö
Narrator: I was born in the north of Sweden in 1938 (the year that the atom was split), but have lived most of my adult life in Bristol, England, and for the last four years in Pembrokeshire in Cymru/Wales. Between 1965-67 I lived in Stockholm for a period where I worked with the anti-imperialist movement, particularly against the Vietnam War, and organised several Vietnam art exhibitions.
Since the beginning of the present Women's Liberation Movement in 1969 I have been active in grassroots campaigns such as the Women's Abortion and Contraception Campaign (WACC), Wages for Housework, the Bristol Gay Women's Group and the Claimants Union in which I worked with unsupported mothers.
For the last few years I have been mainly involved in exhibiting and working with Feminist artists both in Britain and abroad, with the Matriarchy Network, the Women for Life on Earth network, Radical Pagans, and Fishguard CND. […]
The inspiration for my paintings over the years has been my woman- experiences of natural childbirth (I have three children), bisexuality, menstrual creative and psychic powers, visions and dreams of the Goddess and of ancient women, the herstory (not history) of women of all cultures, and journeys to Her sacred sites.
For me there has never been any contradiction between working politically with women at the same time as trying to understand and tune into our spirituality, the Goddess within us. That Feminist art is, in itself, highly political I have learned from bitter experience. […]
Unless women, together with oppressed people everywhere, rise up, unless we again heal ourselves and this sacred Earth that has been plundered, ravaged and raped at the instigation of ruling and predatory men in patriarchal capitalist societies, unless we can again live in harmony with Her, we will all die. The Mother is calling us at this late hour. She is rising within us. She is empowering the women at Greenham Common who are an example to women everywhere- and also to many men. […]
Living in the countryside here in Pembrokeshire has brought me infinitely closer to an understanding of Her seasons, of growth and decay, death and rebirth in Nature. We have so much to re-learn about the natural, healing powers of the Earth and Her waters. We must tune back into the darkness of the night-time and Her Lunar powers of imagination, visions and dreams, into Her dark cosmic body. Matter- Mater-Mother is alive and enspirited and there are no divisions (only 'manmade' ones) between body and soul, matter and spirit. We must be graceful enough to return love and care to our Mother who gave us life.